About Our Services
Do you have a problem with your garage door? Is it stuck on the floor and won't open? Is the opener silent? Did your springs snap? There are no innocent problems when it comes to garage doors. Call JE Garage Doors Repair West Hills CA as soon as you feel that there is something wrong with the system. Contact us 24/7 if you need urgent garage door opener repair or broken spring replacement. Is one of the garage door cables broken? We are here to assist you with any issue related to either your commercial or home garage system. Whether the problem is with one of the mechanical parts, the panel or the opener, you can trust us to fix it. We are a team of garage door specialists and have the experience and means to help you.
Feel Safe & Secure – About Us and Our Safety Precautions
What can go wrong with a garage door? This is a heavy and large door and moves thanks to tens of parts. It is also connected to an electric opener, which is activated by a clicker or keypad. If any part is damaged, the door might jam. If one of the opener wires breaks, the motor won't work. The reverse system of your opener is installed to protect your from severe accidents should the door falls. Don't underestimate the importance of the safety sensors or regular services. At our company, we offer routine garage door service to take care of any part of the system in order to ensure your safety and prevent any accidents. But we are also here to take care of damaged parts.
Learn More About Us and Our 24/7 Emergency Service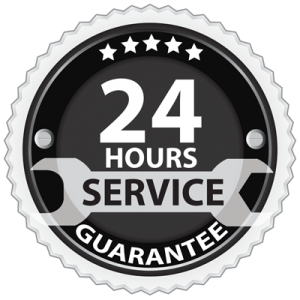 We offer 24 hour emergency repair service. Residents in West Hills CA can rest assured that one of our technicians will help them should their cable snaps or the door won't close. There is an emergency team at our business which serves
exactly this purpose. Helping people when they need to restore serious garage door damage is one of our priorities. If your torsion spring snaps, the door will remain shut. If the door is open when the spring breaks, it will come down with huge force.
Tensed components, such as the springs & cables, can cause even fatal accidents if they suddenly snap. For the avoidance of such tragedies, we offer safety inspections. Our techs test the reverse system and the door's balance. Is one of the springs sagging? By adding tension and making the right adjustments, we make sure they are in good shape. We can also lubricate and replace them. You can turn to our team for your emergency garage door spring repair needs 24/7.
About Our Team of Garage Door Repair Experts
Our 24 hour garage door repair team is available to cover your urgent needs night and day. Call us if you need spring repair and rely on our quick assistance when you want to check the reasons for the door moving up and down on its own. Both openers and springs are important parts of the door. Damaged springs might snap and hurt you let alone that you won't be able to open the door. Malfunctioning openers will also compromise your safety. If the sensors are not facing one another or their lenses are dirty, the reverse system won't work and thus it won't protect you in the event of the door collapsing.
Need track repair? Cable replacement? Contact Us
Rest assured that we don't only provide garage door opener repair in timely fashion. We also replace snapped cables and fix them when they come off their drum, replace broken pulleys, align the tracks and fix them when they are bent and dented, install new rollers and fix the door off track. From minor to major repairs, our company can help you with garage door and opener issues. Want track alignment? Need spring adjustment? Call us for our service locations in and near West Hills CA. For more information please check our contact us page.